Curriculum & Instruction, MA - Science Education
Science Education Emphasis
Curriculum & Instruction, MA
Course Delivery
On Campus, Online, Hybrid
About the Program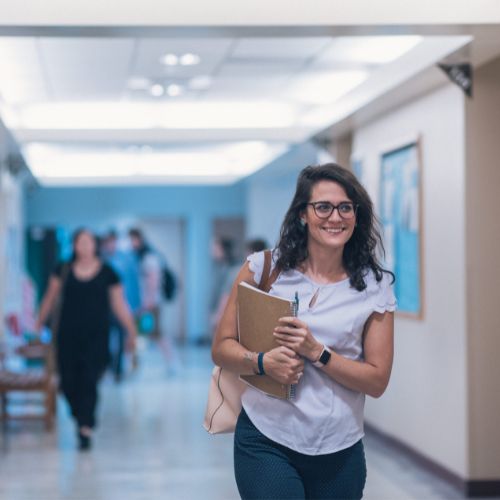 Curriculum & Instruction, MA - Science Education
The Master of Arts (MA) in Science Education is an interdepartmental degree involving the College of Education and other colleges on the campus. The Science Teaching Option is designed primarily for teachers who wish to improve their knowledge of science and improve their science teaching skills. The program is appropriate for teachers at all levels (K-12) interested in improving their science teaching or developing science programs in their schools.
---
Focus of Study
This interdisciplinary program is designed for teachers aspiring to pursue a degree with greater emphasis on science content and less emphasis on pedagogy. The Science Teaching Option includes Science Education courses as well as science, mathematics, and selected other content courses. The program is designed to provide classroom teachers with a strong background in science content balanced with knowledge of contemporary science teaching practice, and the sound application of research.
---
Program Requirements
All courses must be completed with a grade of B- or better.
---
Program Coursework
The Master of Arts Degree in Curriculum & Instruction is a thirty-six (36) - semester-hour program designed for licensed, practicing teachers who desire to continue developing their professional expertise. Candidates complete a core of academic work requiring:
Examination of educational issues from the perspective of social context and culturally responsive pedagogy;
Investigation and analysis of curricular design and models of teaching;
Examination and analysis of seminal and current research and application of research in instructional settings;
Consideration of and for the role and uses of technology in Curriculum & Instruction, and implementation in the classroom.

Further, the selection of a cognate emphasis area allows students to concentrate their coursework in an area of instruction in which they wish to develop a particular expertise (Mathematics Education, Literacy Education, Science Education, or Gifted and Talented Education).
---
Required Courses
The Science Education emphasis within the Master of Arts in Curriculum & Instruction degree program requires the following coursework:
General Required Coursework

Course
Credit Hours
Core Courses

CURR 5000 - Foundations: History & Research in Curriculum Studies
CURR 5002 - Issues, Strategies, & Models in Curriculum Design
LEAD 5700 - Introduction to Research & Statistics
CURR 5090 - Masters Research Project (Final Project)

12
Emphasis Area

Focus area options (see coursework below)

15
Electives
Students may choose electives from any graduate-level courses in the College of Education.
9
Science Education
Course
Credit Hours
CURR 5501:Exploring the Science Curriculum
3
CURR 5502: Dev. Manipulative Materials for Science Teaching
3
CURR 5503: Integrating Reading & Science
3
CURR 5504: Topics in Teaching Science
3
CURR 5520: Activities for Teaching Physical Sciences
3
CURR 5511: Teaching Energy & Environment
3
CURR 5522: Teaching Cosmology
3
CURR 5514: Activities for Teaching Weather
3
CURR 5530: Cutting Edge Science for Cutting Edge Teachers
3

For details on program coursework, please visit the Academic Catalog.
---
Admissions Details
Financial Aid Priority: March 1
For additional details on the admission process, please visit the Admission Details page.
Top