Science Teaching
Master of Science (MSc)
About the Program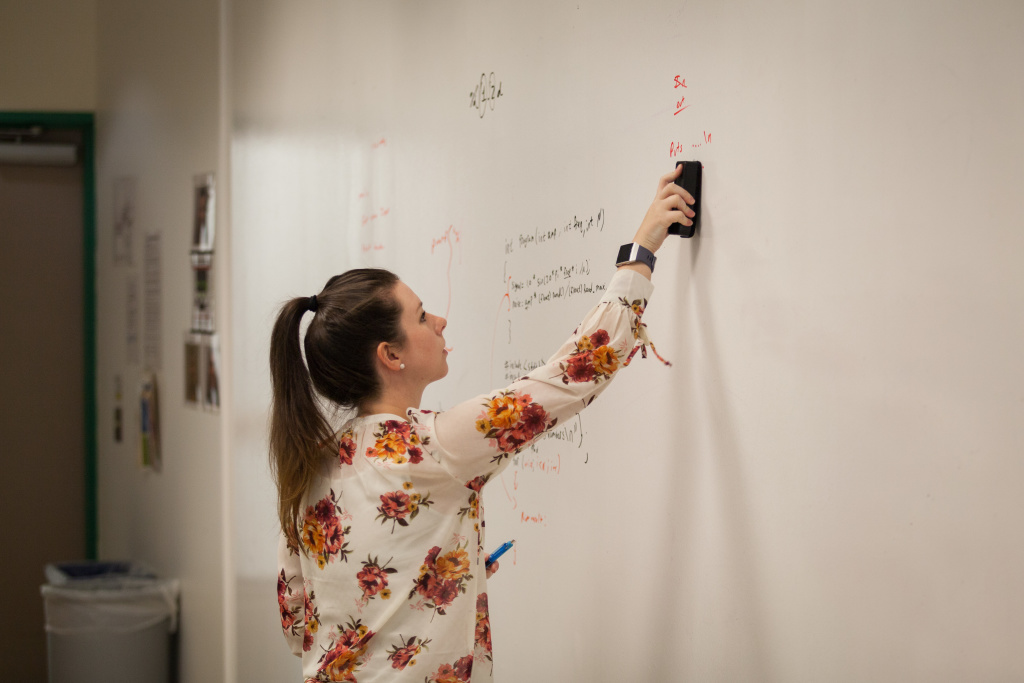 Science Teaching, MSc
The Master of Science in Science Teaching is an interdepartmental degree involving the College of Education and other colleges on the campus. The Science Teaching Option is designed primarily for teachers who wish to improve their knowledge of science and improve their science teaching skills. The program is appropriate for teachers at all levels (K-12) interested in improving their science teaching or developing science programs in their schools.
Note: This program is not designed to lead to teacher licensure.
---
Focus of Study
This interdisciplinary program is designed for teachers aspiring to pursue a degree with greater emphasis on science content and less emphasis on pedagogy. The Science Teaching Option includes Science Education courses as well as science, mathematics, and selected other content courses. The program is designed to provide classroom teachers with a strong background in science content balanced with knowledge of contemporary science teaching practice, and the sound application of research.
---
Program Requirements
The Science Teaching MSc program requires a total of 30 credit hours of coursework and completion of a research project as part of CURR 5090. A thesis option is available but not required. At least 24 credit hours must be at the graduate level.
---
Program Coursework
| | | |
| --- | --- | --- |
| | Courses | Credit Hours |
| LAS Science Education Courses | Choice of graduate science content courses offered through the College of Letters, Arts, and Sciences (LAS) or UCCS' Extended Studies. Courses may include limited hours at the 3000 & 4000 level. | 18 Credit Hours |
| COE Science Education Courses | Science Education courses offered through the College of Education. | 9 Credit Hours |
| Education Courses | CURR 5090 - 3 Research Project | 3 Credit Hours |
For details on program coursework, please visit the Academic Catalog.
---
Admission Details
The Financial Aid Priority filing date is March 1
Admission to the Graduate School at UCCS is required for this program. However, individual courses may be taken by unclassified students. To be admitted to the program one must provide:
Admissions Checklist
Complete the electronic online application
Provide three reference contacts
Submit one transcript from all institutions of higher education previously attended
Prepare a career goal statement
Current résumé (please include relevant paid work and volunteer experience where applicable)
Interview with a department faculty member
Once application materials are in, you will need to interview with a faculty advisor for the program.
Note: If you have questions about the program before or during the Admissions process, or would like more programmatic information, call 719-255-4996 or education@uccs.edu
Career Goal Statement: Please describe why you have applied to your respective program and want to be a professional educator. Please be sure to include personal and professional information that supports this decision. Your statement should be at least two pages in length, double-spaced. Make sure to include your name and the program you are applying to in your goal statement.
Official Transcripts: Domestic students: Have one official transcript of all higher education course work ever completed to date (undergraduate and graduate GPA must be included on transcripts), sent from the institution you attended directly to the University of Colorado Colorado Springs, Office of Admissions (electronically or by postal services).
Postal Services:
UCCS Office of Admissions
1420 Austin Bluffs Parkway
Colorado Springs CO 80918-3733
Electronically:
ugapp@uccs.edu
For other documents if needed:
gradinfo@uccs.edu
Additional items of note for International applicants:
English Proficiency must be demonstrated by providing evidence of an IELTS score of 6.5 or above, a TOEFL score of 550-(paper-based) or 80-(internet-based), or a Kaplan International Tools for English (KITE®) score of a minimum of 460. Students may make arrangements to take KITE® at the Global Engagement Office.
Applicants with any post-secondary coursework from an international higher education institution that is recognized by their country's Education Ministry must submit a course-by-course foreign degree evaluation by a member of NACES (National Association of Credential Evaluation Services (http://www.naces.org/members), AACRAO (https://www.aacrao.org/resources/AACRAO-International/international-education-services) or World Education Services/WES https://www.wes.org/).
The University of Colorado Colorado Springs does not discriminate on the basis of race, color, national origin, sex, age, disability, creed, religion, sexual orientation, or veteran status in admission and access to, and treatment and employment in, its educational programs and activities.
Top