Campus Connections is a service-learning course offered at UCCS to undergraduate and graduate students who have relevant education and experience. Mentors can expect to earn 3-credits for their participation in the program and should plan to attend a weekly lab session from 3:00pm-9:00pm. Youth mentees participate from 4:00pm-8:00pm, arriving an hour after and leaving an hour before mentors, mentor coaches, and instructors. This allows time for mentors to prepare for and wrap up the evening.
With Campus Connections, you will:
Build connections
Earn credit
Become a role model
Provide academic and emotional support
Engage in pro-social activities
Try new challenges with your mentee
To apply:
Watch this Information Session on YouTube or contact Molly Cammell for an info session appointment!
Fill out the Mentor Application now a fillable PDF!
Save and send it to Molly via email OR scan it by downloading a free app on your phone called Genius Scan.
Email it to Molly at mcammell@uccs.edu!
You may also drop off your application in the basket outside of Columbine 3010!
The deadline for Mentor Applications for Fall 2022 is April 1st!
Mentor Application Fillable PDF or Mentor Application Word Doc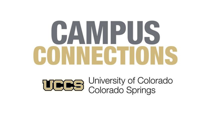 Application Requirements
Fill out Mentor Application Packet
Watch the Mandatory Informational Meeting on YouTube (link below) 
Complete background check and finger printing (instructions will be provided after acceptance)