Leadership, MA - P-12 Education
P-12 Education
Leadership, MA
Course Delivery
On Campus, Online, Hybrid
About the Program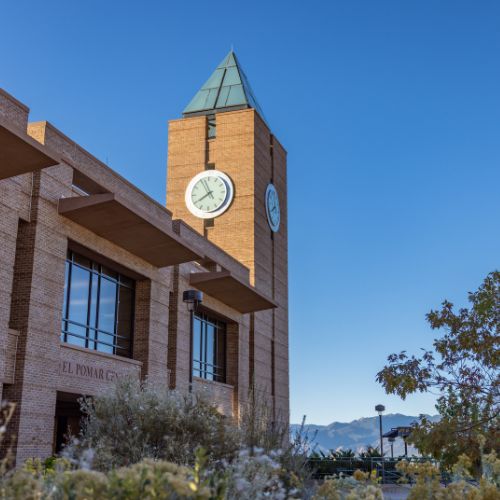 Leadership: P-12 Education, MA
The MA in Leadership: P-12 Education has been carefully designed to ensure the development of educational leaders who can transform schools into learning communities in which all members of a diverse society are accorded opportunity and respect. The curriculum has been developed on a foundation of research in the areas of organizational leadership, inclusive leadership, instructional leadership, professionalism, and data literacy. These programs satisfy accreditation requirements of the Colorado Department of Education (CDE) and the Colorado Department of Higher Education (CDHE).
---
Focus of Study
As an active participant in this program, you will:
Develop as a leader through expanded self-knowledge and worldview.
Learn how to guide an educational team as they integrate recommendations from research with an assessment of the needs of a school community and create a plan for student success.
Explore the political and social implications of schooling and the educational requirements of a diverse, democratic, multicultural society.
Discover how technology can be utilized to enhance management and communication.
Develop school management competencies and leadership strategies.
Enhance your ability to ignite and inspire others!
---
Program Requirements
This is a 30-credit hour program that requires the completion of 9 credits of foundation courses and 21 credits of P-12 leadership cognate courses for the MA degree.
---
Program Coursework
Foundation Courses (9 credits)
| | | |
| --- | --- | --- |
| Course # and Title | Credits | Semester |
| LEAD 5600 - Social Foundations of Education Trends | 3 | Summer (1st 4 weeks of the semester) |
| LEAD 5700 - Introduction to Research and Statistics | 3 | Fall, Spring, Summer |
| LEAD 7000 - Master's Research Laboratory in Education | 3 | Fall, Spring, Summer |
Cognate Area Courses (21 credits)
| | | |
| --- | --- | --- |
| Course # and Title | Credits | Semester |
| LEAD 5020 - Vision, Ethics, and Politics for School Leaders | 3 | Spring (1st 6 weeks of the semester) |
| LEAD 6150 - Legal and Financial Aspects of School Administration | 3 | Spring (2nd 6 weeks of the semester) |
| LEAD 5220 - Data-Driven Program Evaluation and Curriculum Assessment | 3 | Spring (3rd 6 weeks of the semester) |
| LEAD 5170 - Collaborative Leadership for Equity and Community Outreach | 3 | Summer (1st 6 weeks of the semester) |
| LEAD 5070 - Human Resources Management and Staff Development | 3 | Fall (1st 6 weeks of the semester) |
| LEAD 5230 - Instructional Leadership | 3 | Fall (2nd 6 weeks of the semester) |
| LEAD 6140 - Supervision and Evaluation of Instruction | 3 | Fall (3rd 6 weeks of the semester) |
If within 5 years of taking the first course for the MA a student wishes to complete the Principal License Program, the additional required course is the practicum course LEAD 6820.
For details on program coursework, please visit the Academic Catalog.
---
Admission Details
Admission to the MA in Leadership and Advanced License Programs (Principal License, Special Education Director License, and Administrator/Superintendent License) begins with completion of the online Graduate application found here: Apply Now. The online application and all additional required materials must be completed and uploaded into your application. Program admission occurs on a rolling admission basis. Students can begin a program in fall, spring, or summer except for the Administrator/Superintendent License and Special Education Director License programs which only begin in the fall.
1. Within the online application, you will need to:
All applicants (international & domestic) pay the $60.00 application fee
Upload your career goal statement
Upload your curriculum vitae or professional résumé (please include relevant paid work and volunteer experience where applicable)
Complete and upload the Tuition Classification form
Email of three references in the spaces provided in the online application. References must be from a former instructor, current supervisor, and a professional colleague, these references must be in a position to give feedback regarding your ability to be successful in the program
Provide copies of all professional educational licenses
2. Career Goal Statement: Upload your career goal statement into the online application and include responses to the following prompts. Please limit your narrative to 1500 words. Make sure to include your name and the program you are applying to in your goal statement.
What are your reasons for applying to this program?
What are your professional career goals?
How does this program align with your goals.
In what ways have your life experiences, work, and volunteer activities prepared your for a career in leadership?
What do you bring to the program that will benefit your student colleagues?
What personal strengths will enhance your ability to be successful in this program?
What factors might limit your ability to complete this program?
What other factors do you believe are important for consideration in evaluating your application?"
3. Official Transcripts:
Domestic students: Have one official transcript of all higher education course work ever completed to date (undergraduate and graduate GPA must be included on transcripts), sent from the institution you attended directly to the University of Colorado Colorado Springs, Office of Admissions (electronically or by postal services).
Postal Services:
UCCS Office of Admissions
1420 Austin Bluffs Parkway
Colorado Springs CO 80918-3733
Electronically: ugapp@uccs.edu
For other documents, if needed: gradinfo@uccs.edu
Refer to Programs and Credit Requirements section above for degree requirements.
4. Admissions Interview: Once ALL application materials are received (including receipt of all three completed reference forms), prospective students will be contacted by the college to schedule a formal (phone or in-person) interview.
Applicants with any post-secondary course work from an international higher education institution that is recognized by their country's Education Ministry must submit a course-by-course foreign degree evaluation by member of NACES (National Association of Credential Evaluation Services http://www.naces.org/members.htm) or World Education Services/WES https://www.wes.org/).
Additional items of note for international applicants: English proficiency must be demonstrated through providing evidence of an IELTS score of 6.5 or above, a TOEFL score of 550-(paper-based) or 80-(internet-based), or a Kaplan International Tools for English (KITE®) score of a minimum of 460. Students may make arrangements to take KITE® at the Global Engagement Office. The Office can be reached at: international@uccs.edu; 1-219-255-5018.
The University of Colorado Colorado Springs does not discriminate on the basis of race, color, national origin, sex, age, disability, creed, religion, sexual orientation, or veteran status in admission and access to, and treatment and employment in, its educational programs and activities.
Top