Curriculum & Instruction, MA - Gifted & Talented Education
Gifted Education Emphasis
Curriculum & Instruction, MA
Course Delivery
On Campus, Online, Hybrid
About the Program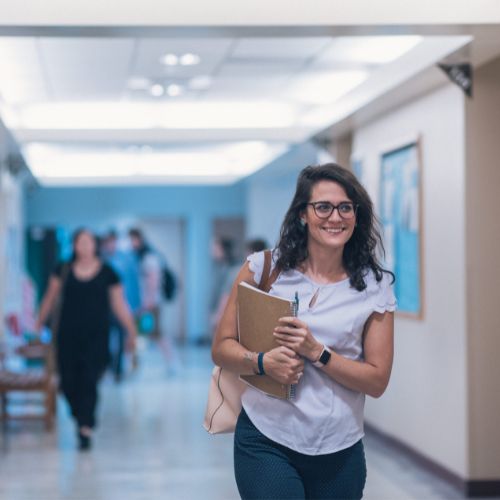 Curriculum & Instruction, MA - Gifted & Talented Education
The Master of Arts (MA) Curriculum & Instruction - Gifted & Talented Education emphasis program prepares teachers at all levels to excel in teaching Gifted and Talented students (PK-12).
The program course sequence meets Colorado Department of Education (CDE) requirements for the Gifted Education endorsement. This program does not meet requirements for an initial teaching license.
---
Focus of Study
The Curriculum & Instruction, MA - Gifted & Talented Education coursework comprises 36 credit hours. It provides teachers with research and evidence-based professional coursework to increase their capacity, knowledge, and skills to become master teachers of gifted and talented students for grades P-12, and it covers a wide range of topics essential for educators specializing in Gifted and Talented education, including foundations, assessment, psychology, diversity, creativity, curriculum models, differentiated instruction, program leadership, and practical experience through a practicum.
---
Program Requirements
To complete this program, students must successfully complete the program's required courses and pass the Gifted Education Praxis exam. All courses are offered in a convenient format, allowing for flexibility in scheduling.
All courses must be completed with a grade of B- or better
40 practicum hours are required for CURR 5230
Professional Exam Requirement
The Praxis exams measure the academic skills and subject-specific knowledge needed as an educator. Students must pass the state-approved Gifted Education Core endorsement exam to complete the certificate and to be recommended for the endorsement.
---
Program Coursework
The Master of Arts Degree in Curriculum & Instruction is a thirty-six (36) - semester-hour program designed for licensed, practicing teachers who desire to continue developing their professional expertise. Candidates complete a core of academic work requiring:
Examination of educational issues from the perspective of social context and culturally responsive pedagogy;
Investigation and analysis of curricular design and models of teaching;
Examination and analysis of seminal and current research and application of research in instructional settings;
Consideration of and for the role and uses of technology in Curriculum & Instruction, and implementation in the classroom.

Further, the selection of a cognate emphasis area allows students to concentrate their coursework in an area of instruction in which they wish to develop a particular expertise (Mathematics Education, Literacy Education, Science Education, or Gifted and Talented Education).
---
Required Courses
The Gifted & Talented Education emphasis within the Master of Arts in Curriculum & Instruction degree program requires the following coursework:
General Required Coursework

Course
Credit Hours
Core Courses

CURR 5000 - Foundations: History & Research in Curriculum Studies
CURR 5002 - Issues, Strategies, & Models in Curriculum Design
LEAD 5700 - Introduction to Research & Statistics
CURR 5090 - Masters Research Project (Final Project)

12
Emphasis Area

Focus area options (see coursework below)

15
Electives
Students may choose electives from any graduate-level courses in the College of Education.
9
Gifted & Talented Education Emphasis Coursework
Course
Credit Hours
CURR 5201: Foundations in Gifted Education
3
CURR 5202: The Assessment & Identification of Gifted & Talented Students
3
CURR 5203: Psychology of the Gifted: Social, Emotional Needs, and Special Populations
3
CURR 5204: Under-identified and Under-served: Giftedness in Poverty & Culturally Diverse
1
CURR 5206: Creativity in Gifted Education
3
CURR 5211: Curriculum Models & Aligned Programming for Gifted Students
3
CURR 5214: Differentiated Instruction and Research-based Strategies for Teaching the Gifted
3
CURR 5215: Gifted Program Leadership
3
CURR 5230: Gifted & Talented Practicum
3

For details on program coursework, please visit the Academic Catalog.
---
Admissions Details
Financial Aid Priority: March 1
For additional details on the admission process, please visit the Admission Details page.
Top