Curriculum & Instruction, MA - Mathematics Education
Mathematics Education Emphasis
Curriculum & Instruction, MA
Course Delivery
On Campus, Online, Hybrid
About the Program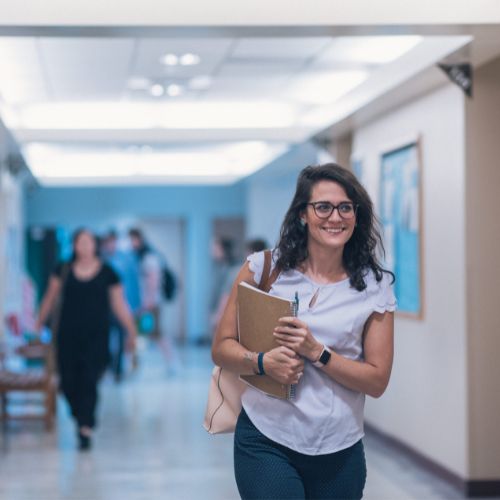 Curriculum & Instruction, MA - Mathematics Education
The Master of Arts (MA) in Curriculum & Instruction - Mathematics Education emphasis program provides in-service teachers with the additional depth of mathematics content and pedagogical knowledge needed to engage students in meaningful mathematics learning.
The program course sequence meets Colorado Department of Education (CDE) requirements for the Middle School Mathematics (6-8) endorsement. This program does not meet requirements for an initial teaching license.
---
Focus of Study
The Curriculum & Instruction, MA - Mathematics Education coursework comprises of 36 credit hours. Courses are designed for immediate classroom application.
Topics include:
Base-10 number systems and operations, rational numbers, proportional reasoning, geometric thinking, measurement concepts, algebraic thinking, and statistical competency
Assessments & interventions for mathematics learners
Standards and evidence-based approaches for teaching mathematics
Leadership in mathematics education
---
Program Requirements
All courses must be completed with a grade of B- or better.
---
Program Coursework
The Master of Arts Degree in Curriculum & Instruction is a thirty-six (36) - semester-hour program designed for licensed, practicing teachers who desire to continue developing their professional expertise. Candidates complete a core of academic work requiring:
Examination of educational issues from the perspective of social context and culturally responsive pedagogy;
Investigation and analysis of curricular design and models of teaching;
Examination and analysis of seminal and current research and application of research in instructional settings;
Consideration of and for the role and uses of technology in Curriculum & Instruction, and implementation in the classroom.

Further, the selection of a cognate emphasis area allows students to concentrate their coursework in an area of instruction in which they wish to develop a particular expertise (Mathematics Education, Literacy Education, Science Education, or Gifted and Talented Education).
---
Required Courses
The Mathematics Education emphasis within the Master of Arts in Curriculum & Instruction degree program requires the following coursework:
General Required Coursework

Courses
Credits
Core Courses

CURR 5000 - Foundations: History & Research in Curriculum Studies
CURR 5002 - Issues, Strategies, & Models in Curriculum Design
LEAD 5700 - Introduction to Research & Statistics
CURR 5090 - Masters Research Project (Final Project)

12
Emphasis Area

Focus area options (see coursework below)

15
Electives
Students may choose electives from any graduate-level courses in the College of Education.
9
Required Courses
| | | |
| --- | --- | --- |
| Course | Title | Credits |
| CURR 5301 | Mathematical Connections and Concepts | 3 |
| CURR 5302 | Leadership & Mentoring in the Mathematics Classroom | 3 |
| CURR 5305 | Assessment & Technology in the Mathematics Classroom | 3 |
| CURR 5311 | Mathematics for Teaching: Numbers and Operations | 3 |
| CURR 5312 | Mathematics for Teaching: Algebraic Reasoning | 3 |
| CURR 5313 | Mathematics for Teaching: Rational Numbers and Proportional Reasoning | 3 |
| CURR 5314 | Mathematics for Teaching: Geometry and Measurement | 3 |
| CURR 5315 | Mathematics for Teaching: Data Analysis & Statistics | 3 |
For details on program coursework, please visit the Academic Catalog.
---
Admissions Details
Financial Aid Priority: March 1
For additional details on the admission process, please visit the Admission Details page.
Top