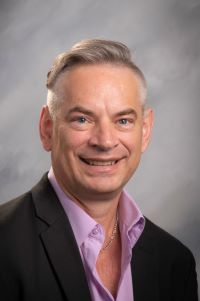 Counseling and Human Services
Biographical Information
R. David Johns (pronouns: he, him, his) is a lecturer in the Department of Counseling and Human Services in the College of Education at UCCS. He completed his PhD in Counseling Education and Supervision at the University of Northern Colorado with a clinical focus on couples and family counseling and a research focus on counselor educators and religion and spirituality. His master's degree is from Idaho State University and the clinical focus was mental health counseling.
Dr. Johns is a Licensed Professional Counselor (LPC) and a Licensed Addiction Counselor (LAC) in the state of Colorado. He is an approved trainer through the Office of Behavioral Health (OBH) for the Clinical Training Program for addiction counselors.  He is also a National Certified Counselor (NCC).
In addition, Dr. Johns practices as a substance use counselor, and has advanced training in Eye Movement Desensitization and Reprocessing (EMDR). He is an EMDR Certified Therapist and is currently pursuing certification to be an approved EMDR consultant.
Previous to his appointment as an instructor at UCCS, Dr. Johns has taught master's level counseling courses including:
Spirituality and Counseling

Substance Abuse Treatment

Theories of Counseling

Diversity and Social Justice
Human Growth and Development

DSM, Diagnosis and Treatment Planning
Areas of Interest
LGBTQI well-being, religion, and spirituality
Counselor Resilience and Self-Care
Adult ADD/ADHD
Trauma and Abuse
Substance Abuse and Recovery
Greif/Loss
Education
Doctor of Philosophy (PhD): Counselor Education and Supervision, University of Northern Colorado
Dissertation Title: Narratives of Competency, Creativity, and Comfort: Religion and Spirituality in Counselor Education.
Master of Counseling (MCoun): Idaho State University
Bachelor of Arts (BA): Boise State University
Certifications, Licenses, and Memberships
Licensed Professional Counselor (LPC) (CO)
Licensed Addiction Counselor (LAC) (CO)
EMDR Trained Clinician (EMDRIA Approved)
National Certified Counselor (NCC)
Awards and Honors
University of Northern Colorado: Graduate Dean's Scholarship
Idaho State University-Boise: Student Excellence Award
Boise State University: Graduate Cum Laude
Jay G. and Mary Donna Jensen Scholarship
Ted Thompson/Bill Tansky Flight 261 Scholarship
Certificat Pratique de Français Commercial et Economique de la Chambre de Commerce et d'Industrie de Paris
Selected Publications
Johns, R. D. (2017). A spiritual question. Qualitative Inquiry. 23(8), 631- 638. doi: 10.1177/1077800417692362
Johns, R. D. (2017). Stories matter: Narrative themes of counselor educators' religious and spiritual competency. Counseling and Values, 62(1), 72-89.
Cardona, B., Breske S., Nelson, N., Johns, R. D., & Mack, J. (2013). A couple in crisis: A case study with implications for counseling. The Family Journal.21(2), 217-222 doi: 10.1177/1066480712465820
Johns, R. D., & Hanna, F. J. (2011). Peculiar and queer: Spiritual and emotional salvation for the LGBTQ mormon. Journal of LGBT Issues in Counseling, 5(3-4), 197-219. doi:10.1080/15538605.2011.633157