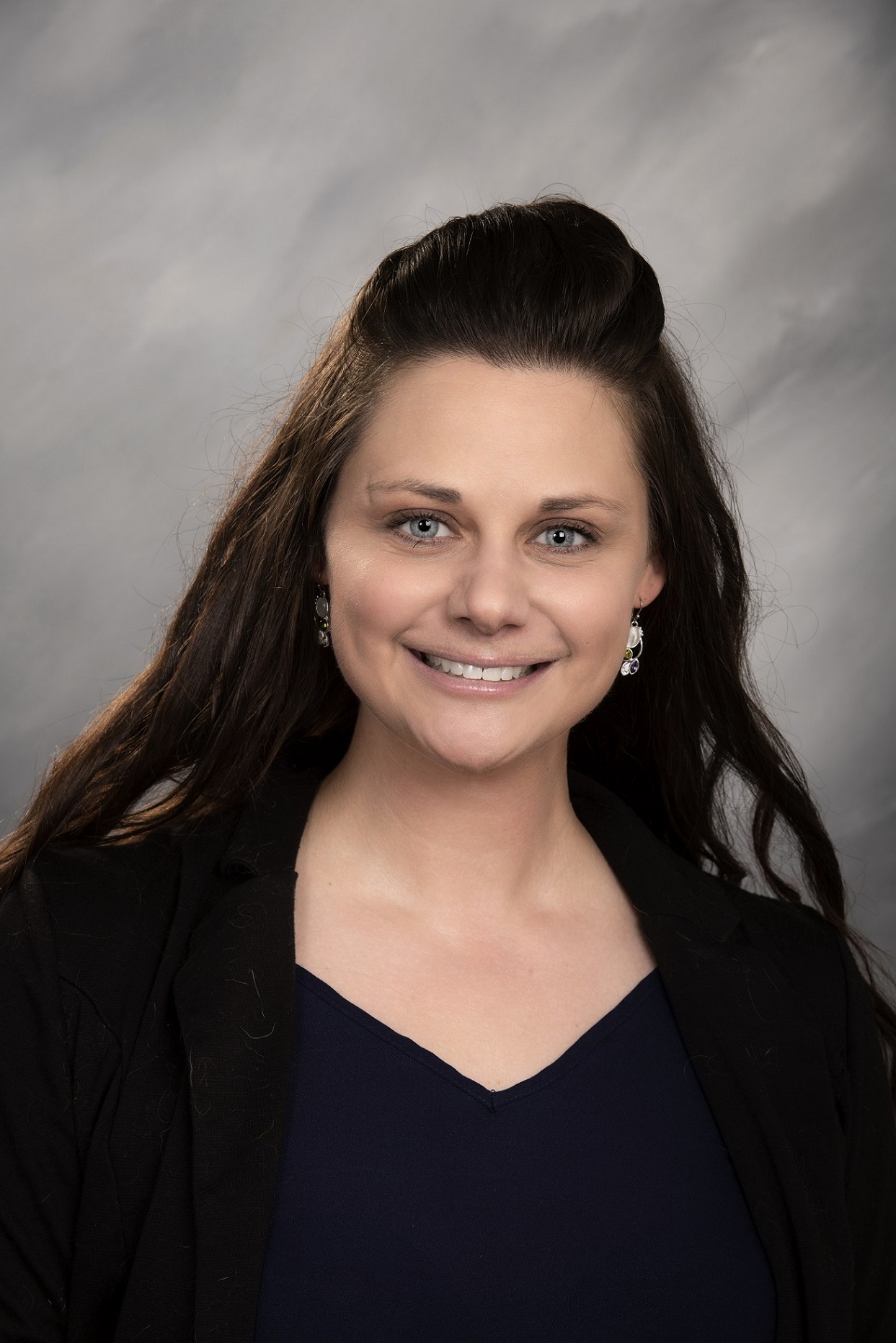 Assistant Professor, School Counseling Program Coordinator
Counseling and Human Services
Education Background
Dr. Kylie Rogalla received her Ph.D. in Counselor Education & Supervision from the University of Northern Colorado, including two doctoral minors in Higher Education and Student Affairs Leadership (HESAL) and Applied Statistics and Research Methods (ASRM). Dr. Rogalla earned her Master's degree in Counselor Education (School Counseling) from Winona State University. She holds a Bachelor of Arts degree in Psychology and a minor in Coaching from Minnesota State University Moorhead.
Dr. Rogalla's professional credentials include Licensed Professional Counselor (LPC), Licensed Clinical Addiction Counselor (LCAC), National Certified Counselor (NCC), and she is Eye Movement Desensitization Reprocessing (EMDR) therapy trained. Kylie is also securing Board Certified-Telemental Health (BC-TMH) practitioner status through the National Center for Credentialing & Education.
Recent Professional Presentations
Rogalla, K. (2021). Drugs of choice and targets of change: Addressing the intention of addiction.
American Counseling Association (ACA) National Conference
San Diego, California—April, 2021 (online)
Rogalla, K. (2019). Serving international clientele: Implications for ethical online counseling.
American Counseling Association (ACA) National Conference
New Orleans, Louisiana—March 28-31, 2019
Rogalla, K. (2019). Co-teaching in higher education: Collaborative activities & instructor matching.
Big XII Teaching & Learning National Conference
Austin, Texas—June 12-14, 2019
Rogalla, K. & Campbell, J. (2019). Co-teaching CACREP internship courses: Benefits, obstacles, & future directions.
Association for Counselor Education & Supervision (ACES) Conference
Seattle, Washington—October 9-12, 2019
Rogalla, K. (2019). Enhancing social justice advocacy through collaborative games in education.
Teach, Play, Learn Regional Conference
South Bend, Indiana—July 12, 2019
Rogalla, K. (2019). In Her Shoes: An IPV simulation event.
IUSB Titan Wellness Initiative Community Event
Indiana University South Bend—October 24, 2019
Recent Publications
Rogalla, K. (2020). Anticipatory grief, proactive coping, social support, and growth: Exploring
positive experiences of preparing for loss. OMEGA: Journal of Death & Dying, 81(1), 107-129.
Rogalla, K. (2020). School counseling curriculum in public schools: Reactive vs. proactive
services addressing grief. Journal of Liberal Arts & Humanities, 1(5), (in press).
Rogalla, K. (2018). Exploring personal death anxiety: Increasing counselor competence for grief
and loss. Journal of Global Engagement & Transformation, 3(1).
Stark, C., Stutey, D., & Rogalla, K. (under review). Cultivating equitable educational environments for transgender and gender-expansive youth: A multi-case cross-case analysis of advocacy in the school environment.
Recent Continuing Education & Professional Development
American Counseling Association (ACA) National Conference
April-May, 2021—virtual

March 28-31, 2019—New Orleans, Louisiana
Association for Counselor Education and Supervision (ACES) National Conference
October 9-12, 2019—Seattle, Washington

October 5-8, 2017—Chicago, Illinois

October 7-11, 2015—Philadelphia, Pennsylvania
Big XII Teaching & Learning National Conference
June 12-14, 2019—University of Texas; Austin, Texas
American School Counseling Association (ASCA) National Conference
July 8-11, 2017—Denver, Colorado
Association for Death Education & Counseling (ADEC) National Conference
April 8-12, 2015—San Antonio, Texas
Teach, Play, Learn Regional Conference
June 26, 2020—South Bend, Indiana (online)
July, 12 2019—South Bend, Indiana

June 22, 2018—South Bend, Indiana
Midwest Scholarship of Teaching & Learning (SoTL) Regional Conference
September 25, 2020—South Bend, Indiana (online)

April 5, 2019—South Bend, Indiana

April 6, 2018—South Bend, Indiana
Inclusive Teaching: Supporting All Students in the College Classroom
Columbia University (EdX)
Fall, 2020 – Present (online modules)
Federal Funding Agency Landscape
Center for Excellence in Research & Scholarship
December 4, 2020—IU South Bend (online)
Trends in Assessment, Enduring Principles, Emerging Opportunities
Academic Affairs and Student Engagement and Success
February 14, 2020—IU South Bend, Indiana
Anam Cara Equine-Assisted Therapy
May 18, 2019—La Porte, Indiana
Professional Grant Training Workshop
Grant Training Center
January 23-24, 2019—University of Notre Dame; South Bend, Indiana
Eye Movement Desensitization Reprocessing (EMDR) Basic Training (50 hrs)
October 1-3, 2015 (Part I)
November 5-7, 2015 (Part II)—South Bend, Indiana
Recent Service
2021 – Present
Chi Sigma Iota; UCCS—Co-Advisor
Technology Committee; UCCS—Member
2021
Chancellor Leadership Program; IU South Bend—Inaugural Cohort Member
School of Education Promotion & Tenure; IU South Bend—Dossier Manager
UCET Online Mentorship Program; IU South Bend—Faculty Mentor
Faculty Senate Athletics Committee; IU South Bend—Member
2020 – Present
CACREP Assessment Liaison; Counseling & Human Services; IUSB—CHS Representative
Faculty Senate Admission & Advising Committee; IU South Bend—Member
School of Education Assessment Committee; IU South Bend—Member
NBCC National Counselor Exam; Counseling & Human Services; IUSB—Campus Coordinator
Faculty Senate Information & Technology Committee; IU South Bend—Member
Anam Cara Stables, Horses Healing the Human Soul—Board of Directors Member
Whole Women's Health Alliance—Legal Observer/Advocate
2019 – 2021
School of Education Curriculum & Standards Committee; IU South Bend—Member
School of Education Scholarship & Awards Committee; IU South Bend—Member
Faculty Senate Development Grant Committee (FACET); IU South Bend—Member
Campus Residential Life Advisor Training; IU South Bend—Guest Lecturer
Journal of the Scholarship of Teaching & Learning—Blind Reviewer
Other Relevant Service
OMEGA: Journal of Death & Dying—Blind Reviewer (2018 – Present)
Homeward Bound Animal Welfare Group—Foster Parent/Volunteer (2018 – Present)
Indiana University Education Council—Alternate IUSB Representative (Fall, 2019)
GCSCORED—Chief Research Analyst & Board Member (2013 – 2019)
Schmucker Middle School, Penn-Madison—Advisory Board Member (2017 – 2018)
School of Education Promotion, Tenure, & Reappointment Committee—Member (2017 – 2018)
Climate & Faculty Welfare Committee—Chair (2015 – 2019)
Counseling & Human Services Department—Interim Chair (2015 – 2016)