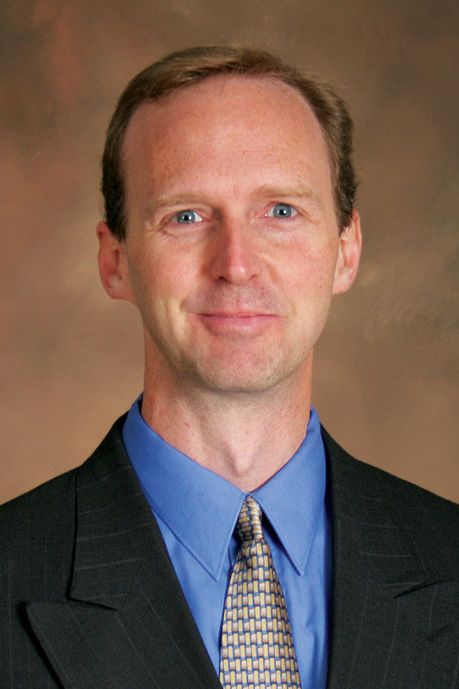 Leadership, Research, and Foundations
Biographical Information
Dr. Carpenter serves as professor of educational leadership at the University of Colorado in Colorado Springs. His research interests include educational and public policy and executive leadership. Prior to service at UCCS, Dr. Carpenter worked as a policy analyst, principal, and teacher.
Education
Ph.D., Educational Leadership and Innovation
University of Colorado - 2001
M.A., Educational Leadership
University of Colorado - 1997
B.A., Music Education
University of Colorado - 1991
Teaching
LEAD 7100
Intermediate Quantitative Research and Statistics
Students learn and apply advanced methods of analyzing data with an emphasis on the use and interpretation of descriptive and inferential techniques. Topics covered include multiple regression, Factor Analysis, HLM, and selected statistical programs.
LEAD 7600
Doctoral Research Laboratory in Leadership
Students participate in laboratories organized by professors to engage students in ongoing research projects, being challenged to extend and apply knowledge and skills developed in coursework as they partner with professors as researchers. Laboratories enable students to demonstrate required skills and knowledge, achieve program goals, and demonstrate progress toward candidacy.
LEAD 7000
Masters Research Lab
This course is designed to assist students in the development of technical skills in the areas of tests and measurements, technology, and research necessary for successful leadership in schools.
Professional Experience
Dr. Carpenter's work has been featured in academic venues such as Urban Studies, Economic Development Quarterly, Regulation and Governance, Fordham Urban Law Journal, Independent Review, Journal of Advanced Academics, Journal of Applied Business and Economics, Journal of Education Finance, Assessment for Effective Intervention, Peabody Journal of Education, Journal of Special Education, The Forum, Education and Urban Society, Journal of School Choice, and Leadership and magazines, such as Regulation, Phi Delta Kappan and the American School Board Journal. Moreover, the results of his research have been used by state education officials in accountability reporting, proved influential in crafting policy in state legislatures, and cited in briefs and decisions in various state and federal courts, including the United States Supreme Court.
Dr. Carpenter has served as an expert witness in federal lawsuits and has been quoted in newspapers such as the Wall Street Journal, New York Times, Denver Post, Los Angeles Times, Detroit Free Press, Atlanta Journal-Constitution, Chronicle of Higher Education, Dallas Morning News, Miami Herald, Baltimore Sun, Education Week, and the Washington Times, among others. He can be seen discussing his work in a 2019 TEDx talk, on CSPAN, and with prominent journalist John Stossel.
Publications
Carpenter, D. M., & Dunn, J. (2021). We're All Teachers Now: Remote Learning During COVID-19. Journal of School Choice, 14(4), 567-594.  
Moore, A. L., Carpenter, D. M., James, R. L., Miller, T. M., Moore, J., Disbrow, E., & Ledbetter, C. (2020). Neuroimaging and neuropsychological outcomes following clinician-delivered cognitive training for six patients with mild brain injury: A multiple case study. Frontiers in Human Neuroscience, 14(229), 1-15. 
Carpenter, D. M. (2019). How Telling: What the teacher educator leader and learner (TELL) survey tells us about leadership in charter schools. In V. Storey (Ed.), Leading in Change: Implications of School Diversification for School Leadership Preparation in England and the United States, (pp. 211-226). Charlotte, NC: Informationa Age Publishing.
Behrens, T., Holeva-Eklund, W. M., Luna, C., Carpenter, D. M., Tucker, E., Field, J. & Kelly, C., (2019). An evaluation of an unstructured and structured approach to increasing recess physical activity. Journal of School Health, 89(8), 636-642.
Clayton, G., Clayton, C., Carpenter, D. M., & Ecks, G. (2019). Achievement of English as new language learners in monitor status: A cross sector comparison from Denver. Journal of School Choice, 13(1), 58-75.
Carpenter, D. M., Webster, M., & Bowman, C. (2019). White house wit: How presidents use humor as a leadership tool. Presidential Studies Quarterly, 49(1), 23-55.
Moore, A. L., Carpenter, D. M., Miller, T. M., & Ledbetter, C. (2019). ThinkRx cognitive training for adults over age 50: Clinician-caregiver partners in delivery as effective as clinician-only delivery. Psychology & Neuroscience 12(1), 1-16.
Carpenter, D. M. (2018). Street vending in the United States: A unique dataset from a survey of street vendors in America's largest cities. Cityscape, 20(3), 245-256.
Carpenter, D. M., Kelly, C., Behrens, T. K., Field, J., Luna, C., & Tucker, E. (2018). Examining the relationship between physical activity and student achievement and behavior: Results from a three-year intervention. Journal of Physical Activity Research, 3(2), 109-117.
Carpenter, D. M., Knepper, L., Sweetland, K., & McDonald, J. (2018). The continuing burden of occupational licensing in the United States. Economic Affairs, 38(3), 380-405. 
Carpenter, D. M., & Dunn, J. (2018). Simulated complexity: A new classroom simulation to teach about campaign finance laws. PS: Political Science & Politics, 51(2), 445-449.
Carpenter, D. M., Kaka, S., Tygret, J., & Cathcart, K. (2018). Testing the efficacy of a scholarship program for single parent, post-freshmen, full time undergraduates. Research in Higher Education, 59(1), 108-131.
Carpenter, D. M. (2018, May). The questionable ethics of civil forfeiture. Freedom from Fear, (14), 24-28.
Moore, A. L., Carpenter, D. M., Miller, T. M., & Ledbetter, C. (2018). Clinician-delivered cognitive training for children with attention problems: effects on cognition and behavior from the ThinkRx randomized controlled trial. Neuropsychiatric Disease and Treatment, 14, 1671-1683.
Carpenter, D. M. (2017). Bottleneckers: The origins of occupational licensing and what can be done about its excesses. Federalist Review, 18, 14-20.
Holeva-Eklund, W. M., Behrens, T. K., Carpenter, D. M., Tucker, E., Field, J., & Kelly, C. (2017). Physical activity of school faculty and related professional development, Journal of Physical Education Research, 4(3), 22-30.
Kelly, C., Carpenter, D. M., Tucker, E., Luna, C., Donovan, J., & Behrens, T. (2017). A method for evaluating school-based physical activity programming. Preventing Chronic Disease, 14, 160607. DOI: http://dx.doi.org/10.5888/pcd14.160607.
Winters, M., Clayton, G., & Carpenter, D. M. (2017). Does attending a charter school reduce the likelihood of being placed into special education? Evidence from Denver, Colorado. Educational Evaluation and Policy Analysis, 39(3), 448-463.
Behrens, T. K., Holeva, W. M., Carpenter, D. M., Tucker, E., Donovan, J., Luna, C., Field, J., Kelly, C. (2017). Intensity of commonly reported classroom-based physical activity opportunities offered in public schools. Preventive Medicine Reports, 6, 157–161.
Winters, M., Clayton, G., & Carpenter, D. M. (2017). Are low-performing students more likely to exit charter schools? Evidence from New York City and Denver, Colorado. Economics of Education Review, 56, 110-117.
Carpenter, D. M., Ledbetter, C., & Moore, A. L. (2016). LearningRx cognitive training effects in children ages 8–14: A randomized controlled trial. Applied Cognitive Psychology, 30, 815-826.
Carpenter, D. M., Keith, R. S., & Catt D. (2016). The private school landscape: The effects of school choice on student capacity and composition. Indianapolis, IN: edChoice.
Hemphill, T. A., & Carpenter, D. M. (2016). Occupations: A hierarchy of regulatory options. Regulation, 39(3), 20-24.
Mellor, W., & Carpenter, D. M. (2016). Bottleneckers: Gaming the government for power and private profit. New York: Encounter.
Carpenter, D. M., Kafer, K., Reeser, K., & Shafer, S. (2015). Evaluating the performance of online K-12 schools. International Journal of E-Learning, 14(4), 423-441.
Carpenter, D. M., & Winters, M. (2015). Who chooses and why in a universal choice scholarship program: Evidence from Douglas County, Colorado. Journal of School Leadership, 25, 899-939.
Gibson, K., Carpenter, D. M., Moore, A. L., & Mitchell, T. (2015). Training the brain to learn: Augmenting vision therapy. Vision Development & Rehabilitation, 1(2), 119-128.
Carpenter, D. M. (2015). When legal is not ethical: The case of civil forfeiture. International Journal of Ethics, 10(3), 215-228.
Carpenter, D. M., Knepper, L., Erickson, A., & Ross, J. (2015). Regulating work: Measuring the scope and burden of occupational licensure among low- and moderate-income occupations in the United States. Economic Affairs, 35(1), 1-20. 
Carpenter, D. M., & Clayton, G. (2014). Measuring the relationship between self-efficacy and math performance among first-generation college-bound middle school students Middle Grades Research Journal, 9(2), 109-126.
Carpenter, D. M., Primo, D., Tendetnik, P., & Ho, S. (2014). Disclosing disclosure: Lessons from a 'failed' field experiment. The Forum, 12(2), 343-356.  
Carpenter, D. M., Robertson, J. W., Johnson, M. E., & Blum, S. (2014). Social media analytics in education: What is it, how it is useful, and what does it tell us about how schools are discussed in social media? Journal of School Public Relations, 35(1), 7-43.
Al Ramirez, Dick M. Carpenter II, Maureen Breckenridge (2014). Exploring the Impact of Inadequate Funding for English Language Learners in Colorado School Districts. Journal of Education Finance, 40(1), 60-79.
Carpenter, D. M.(2013). Where does the money go? Journal of Education Finance, 38(4), 304-319.
Carpenter, D. M., & Milyo, J. (2012-2013). The public's right to know versus compelled speech: What does social science research tell us about the benefits and costs of campaign finance disclosure in non-candidate elections? Fordham Urban Law Journal, 40(2), 603-638.
Crawford, L., Carpenter, D., Wilson, M., Schmeister, M., & McDonald, M. (2012). Testing the relationship between fidelity of implementation and student outcomes in math. Assessment for Effective Intervention, 37(4), 224-235. Awarded Article of the Year for the journal in 2012.
Carpenter, D. M., & Kafer, K. (2012). A history of private school choice. Peabody Journal of Education, 87, 336-350.
Carpenter, D. M. (2012). Testing the utility of a licensing policy: Evidence from a field experiment. Journal of Applied Business and Economics, 13(2), 28-41.
Carpenter, D. M., & Ramirez, A. (2012). Exploring the under-achievement gap. Journal of Christian Higher Education, 11(2), 115–130.
Carpenter, D. M.(2011).Who's misleading whom? Defining titles in occupations "on the make". National Social Science Journal,35(2),29-42.
Carpenter, D. M.(2011). The Power of one entrepreneur: A case study of the effects of entrepreneurship. Southern Journal of Entrepreneurship, 4(1),(19-35).
Carpenter, D. M., & Hughes, H.(2011). Gubernatorial rhetoric and the purpose of education in the United States. International Journal of Education Policy and Leadership, 6(6),1-15.
Carpenter, D. M.(2011). Comment on Carpenter and Ross (2009):Eminent domain and equity-A reply. Urban Studies, 48(16),3621-3628.
Carpenter, D. M., & Medina, P. (2011). Exploring the competitive effects of charter schools. International Journal of Education Reform, 20(11), 33-56.
Carpenter, D. M., & Ross, J. (2010). Do restrictions on eminent domain harm economic development? Economic Development Quarterly, 24(4), 337-351.
Carpenter, D. M., & Noller, S. (2010). Measuring charter school efficiency: An early appraisal. Journal of Education Finance, 35(4), 398-416.
Carpenter, D. M. (2009). School choice and the law: Introduction. Journal of School Choice, 3(4), 327-330.
Carpenter, D. M., & Ross, J. (2009). Testing O'Connor and Thomas: Does eminent domain target poor and minority communities?Urban Studies, 46(11), 2447–2461.
Carpenter, D. M. (2009). Mandatory disclosure for ballot initiative campaigns. Independent Review, 13(4), 567-583.
Carpenter, D. M. (2008). Regulation through titling laws: A case study of occupational regulation. Regulation and Governance, 2(3), 340-359.
Carpenter, D. M. (2008). The coincidence of reform: Charter school diversity in a standards-based world. Journal of School Choice, 2(2), 93-114. >>View PDF
Carpenter, D. M. (2008).  Expectations, aspirations, and achievement among Latino students of immigrant families. Marriage and Family Review, 43(1/2), 164-185. >>View PDF
Carpenter, D. M., & Ramirez, A. (2007).
Carpenter, D. M. (2008). Charter schools and accountability in public education. Education Review. 
Carpenter, D. M., Crawford, M., & Walden, R. (2007). Testing the efficacy of team teaching. Learning Environments Research, 10, 53-65
Carpenter, D. M. (2007). Presidents of the United States on leadership. Leadership, 3(3), 251-280. 
Carpenter, D. M. (2006). Modeling the charter school landscape. Journal of School Choice, 1(2), 47-82.
Carpenter, D. M., Ramirez, A., & Severn, L. (2006). Gap or Gaps: Challenging the Singular Definition of the Achievement Gap in the Education and Urban Society, 39(1), 113-127. 
Crawford, L., Tindal, G., Carpenter, D. M. (2006). Exploring the validity of the Oregon Extended Writing Assessment. The Journal of Special Education, 40(1), 16-27 
Carpenter, D. M. (2005). Playing to type. Thomas B. Fordham Foundation, Washington, DC 
Ramirez, A., & Carpenter, D. M. (2005). Challenging assumptions about the achievement gap. Phi Delta Kappan, 86(8), 599-603.
Carpenter, D. M. (2005). Presidential rhetoric and the purpose of American education. Educational Forum, 69(3), 278-290. 
Carpenter, D. M. (2004). Visions of education: How education is constructed in editorial cartoons. Journal of School Public Relations, 25, 272-291. Carpenter, D. M. (2004). Like father, like son: Testing the Bush I-Bush II comparison-predictions. The Forum, 2(1), Article 5
Carpenter, D. M. (2004). The important questions and improbabilities of Making the Grade. Education Review 
Carpenter, D. M. (2004). On zero tolerance. Education Review